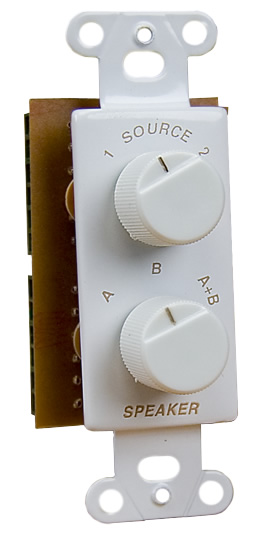 IW-202



MODEL:

IW-202
Source 1 or 2 and Speakers A or B, or A+B
Combination Switch Source
DESCRIPTION

OEM SYSTEMS offers several different types of speaker selectors.  Speaker selectors can be used as a distribution point when multiple speakers are connected to an amplifier.  This can reduce wiring clutter and offer a cleaner and more reliable installation.  They are also useful for isolating areas of distributed sound.  This can permit private listening and prevent disruption to offices or guest and children's rooms.  Beyond these benefits, speaker selectors also help to protect the amplifier from damage by reducing or balancing the load.  When it comes to choosing the right speaker selector for your system, feel free to call us with your questions.



WIRING NOTE:


A) Wiring to and from switch should be "CL-2 or CL-3" rated. Use 16 gauge or larger for runs in excess of 100 feet.

B) Strip ¼" off each wire. Ensure all strands are twisted together and inserted into respective terminals.

C) For 12 gauge and larger wire, trim some of the strands off to enable them to fit into the terminals.

D) Perform initial testing of selector at low volume level to prevent damage to equipment.

This is a

"Common Ground"

switch. It is not intended to be used with equipment which is incapable of operating with "common ground" connections. Consult the owner's manual of the equipment to be connected. Severe circuit damage can occur to equipment not designed for "common ground" type connections.



CAUTION:


If no Volume Control is used with the IW-202 tie off pigtails as follows: 
Brown to Green - - Red to Purple
Orange to Gray - - Yellow to White
SPECIFICATIONS

| | |
| --- | --- |
| Model Number: | IW-202: 1 or 2 and Speakers A or B, or A+B |
| Available Colors: | Ivory: IW-202i |
| Power Handling | 100 watts max |
FEATURES


To select SOURCE 1 or 2 and direct selected source to SPEAKER PAIR A or B or A+B. 

The IW-202 is ideal for selecting inputs from TV or Stereo in a bedroom and directing
the output to speakers in the bedroom, bathroom, or both.

This plate will install in stadard "J" box with included screws. Use CL wiring. Pigtails
included to interface with volume control. Refer to a technician if in doubt about specific
wiring diagrams for various applications.

Fits standard decora openings 

Sold and Shipped Individually
DIMENSIONS & WEIGHTS

| | |
| --- | --- |
| Overall Dimensions: | 1.65" (42mm) W x 2.8" (71mm) H x 0.9" (23mm) D |
| Mounting Dimensions: | N/A |
| Shipping Weight: | 0.26 lbs |
| Actual Weight:  | 0.25 lbs |